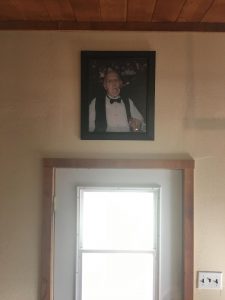 Paul is the driving force behind this family. His picture resides above the door of Paul Piazza Upholstery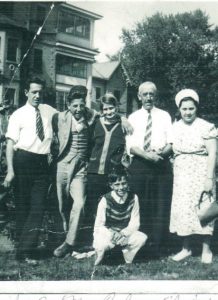 Paul second from the left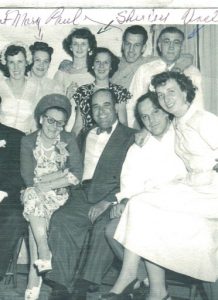 Paul center right
Shirley center left

Original Paul (AKA Grandpa Paul)
Story of Paul Piazza
He grew up "running the streets" of Windsor, as he would say. As a young man he joined the US Navy. He also played professional football for the Montreal Rockets. Paul was not what you would imagine when you think of a football player. He was 5'10 and 170 lb. It was his fierceness and courage that allowed him to go toe to toe with a bigger man. He met and married, Shirley, an amazing woman and a character in her own right. They started they're family and lived in the Detroit area.
After their first son, Dino, was born they moved to Scottsdale, AZ. Paul worked for Travel Line Furniture before he became self-employed and started his own upholstery shop.
I learned about this chapter in the lives of Paul and Shirley in bits and pieces. Paul telling his version in the shop seated in front of his sewing machine. Shirley told her version in the office. She always offered you a drink or something to snack on every time you entered, which I learned early on to accept. To this day her generosity and hospitality is extraordinary, and refusing food or beverage is a fight you just won't win.
The laughter, stories, and memories shared by these two are epic to say the least.
Some I can tell you, some are required to stay in the vault. But they all started at, ended at, happened in, were funded by, or were told in "the shop."